The strength and grace we see when athletes perform on a narrow beam, execute a tumbling run on a floor mat or flip and fly around bars is astounding and beautiful, and all of it is the culmination of dedication and discipline. Gymnastics combines physicality with perseverance and teaches life skills that form a foundation for success in every facet of life.
Diane Wavrik is the Gymnastics Program Director at Rancho Family YMCA and women's Gymnastics Coach at Westview High School and her teams and athletes have recently won titles and CIF championships. We recently spoke with Diane about the values, joys and enrichment that gymnastics – and sports participation – can instill in the lives of people of all ages.
Diane is a teacher, a mentor, a counselor, a friend, a role model, and a coach. Before she was any of these, she was a gymnast and student athlete. She started gymnastics at age 10 and her talent and work ethic led her to becoming an NCAA athlete, competing for the University of California Santa Barbara. After graduation she joined the staff at the YMCA where she began to impart her wisdom and training to a new generation of tumblers and gymnasts. Diane joined the staff at Rancho Family YMCA in Rancho Peñasquitos in 2003 and became the Women's Gymnastics Coach at Westview High School in 2007.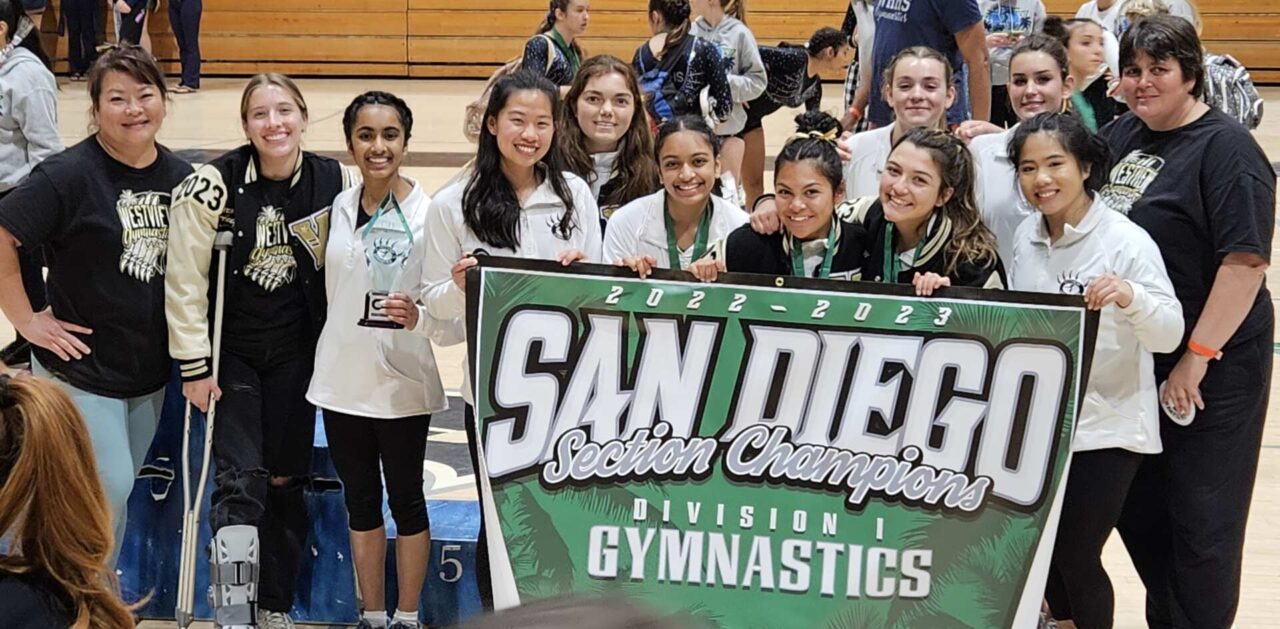 2023 Westview High School gymnastic team celebrates its second straight CIF victory!
Q: From a coach's perspective, what are the lessons from Gymnastics that we can apply to LIFE?
A: In my experience, gymnastics teaches something valuable at every age and level of participation, both in physical development and mental development. For a little one, they might be all about having fun tumbling, making new friends and being part of a class, so there's the social value. Along with that, they are developing kinesthetically, balance, posture, strength, spatial awareness, body control and that's the physical side. As athletes mature, their physical skill and ability increase, and they develop mentally in discipline and perseverance as they learn to compete as an individual and as part of a team.
We also do a lot of individual work on setting goals. A lot of students join a gymnastics program, and their goal is "to make it to the OLYMPICS!". That's admirable, but we teach them to break it down into smaller goals that are achievable. We help them differentiate between short term goals and long terms goals, and when they see how stacking up the smaller, measurable victories leads to bigger victories they begin to understand the pattern. Teaching this practice is a huge skill that sets them up for success in life!
Q: What impact did COVID have on your programs?
A: It was important for us to keep the momentum going for our girls, to keep the connection and engagement. We opened back up pretty early by being designated as an essential enrichment activity. We made small adjustments to our program that allowed us to adapt to being online and still moving forward. We conducted warmups and stretching online, we invited guest speakers on nutrition, fear management, motivation, and injury prevention. We also gave the girls assignments such as designing a Vision Board and defining what key words meant to them as a gymnast. Once we were able to meet again in person, we had smaller practices and distancing was easy because of the nature of our sport – the beam, the bars and floor – we have lots of room to spread out! It was super valuable for our girls to keep the connection with the team, with families and with each other throughout the uncertainty and waiting period of Covid. We're proud of the fact that 76% of our participants stayed with us during that time.
Q: What are some of the competitive achievements of your teams?
A: We recently took 29 athletes from the Rancho Family YMCA program ranging from 11 to 18 years to "Y NATIONALS" in Ohio in June where we competed against 72 other YMCAs from across the country. We had many individual champions in their age groups. Both our Level 6 and Level 7 teams took FIRST PLACE! The chance to go to Nationals is a "perk" for the older girls. Those who have stayed with the program and continued to elevate their skill, who have put in the work and are now beginning to mentor some of the younger girls, it's their chance to go perform at a big event with a big audience and enjoy traveling with the team to a new city, stay in a hotel – it's a huge deal and always a ton of fun.
The Westview High School Women's Gymnastics Team are THE CIF CHAMPIONS IN 2022 AND 2023. They compete locally around San Diego and southern California during the high school season, Feb – May. Most of the high school team members do not continue with gymnastics in college, but several do go on to compete in other sports like cheer, Acro or diving where their gymnastic skills give them an edge.
Q: Anything further you would like to add?
A: The thing about gymnastics is that it requires a commitment to practices that last up to 3 hours and many of the athletes stay in it for 8, 10 years or more. We spend A LOT of time together as a team, both at YMCA and at WHS, and inevitably we develop strong relationships – not just the girls becoming close friends, but also the families becoming close with each other over time. They see their own athletes grow and excel, and they also become invested in encouraging the success and achievements of every member of the team.
At the Y, 70% of our staff are former gymnasts themselves, 3 of our Directors in the San Diego area are former gymnasts.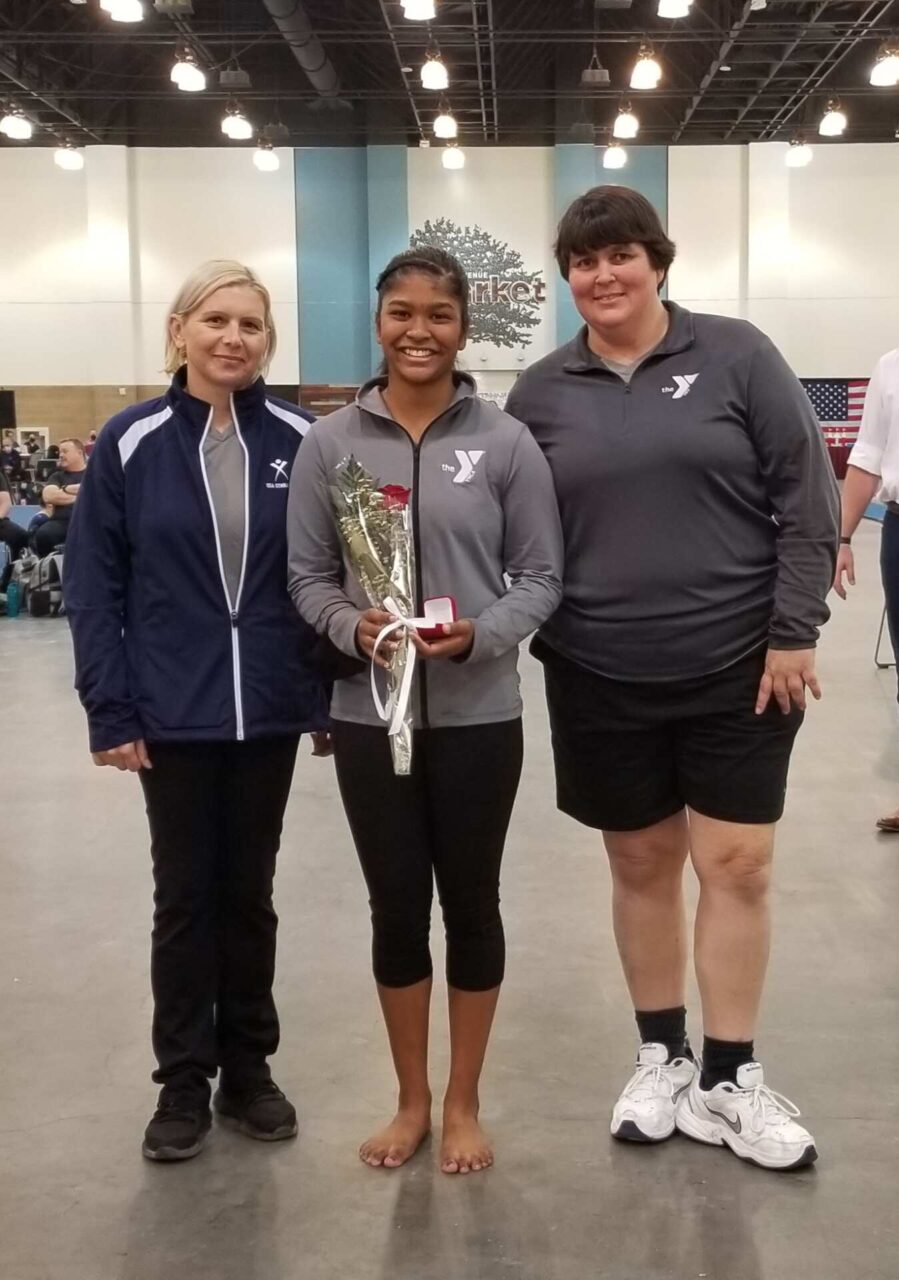 Senior Abigail Alvarado is honored for being a graduating senior at her USA Gymnastics State meet. She is pictured with her coaches Hajni Pongracz and Diane Wavrik.