We've got the perfect "recipe" for spending more time at home and the need for some good ole fashioned comfort … Mom's Chocolate Cake.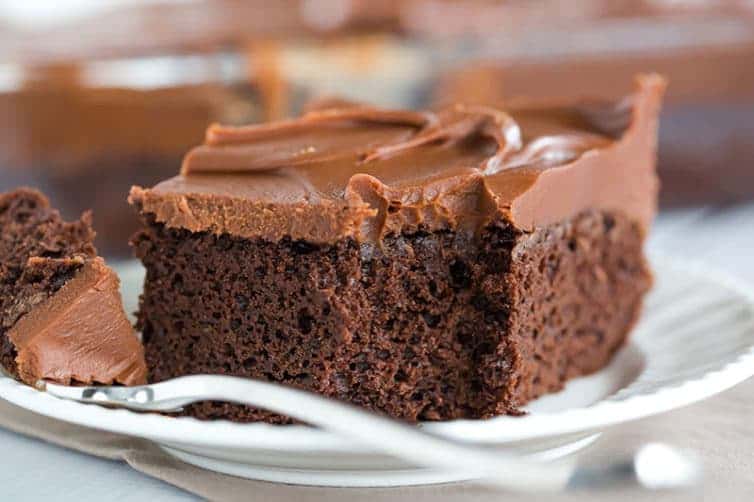 I grew up with my mom baking this cake for birthdays, special occasions, and "just because." Deb continued this tradition with our family and now our two oldest sons are creating smiles as they bring a little "home-baked" goodness to their restaurant, Sidecar, in San Luis Obispo, CA. It's been a Christensen favorite for generations. 
Pro Tip: cut out a nice corner piece, microwave for around 15 seconds (warm, but not so warm the frosting melts off), pour a glass of cold, whole milk, find a nice spot, savor and enjoy!
Mom's Chocolate Cake /  Bake at 375 Degrees
Cake:
1 stick margarine (I know this is old school, however, I've never used butter)
½ cup Canola or vegetable oil (I've never used olive or any other type. I usually use Canola Oil)
1 cup water
3 ½ Tbl unsweetened cocoa powder (I use Hershey's)
2 cup sugar
2 cups + 5 Tbl all-purpose flour
1 ¼ tsp baking soda
1 tsp cinnamon
Pinch salt
½ cup buttermilk (I usually don't buy buttermilk, so I use 2 percent or whole milk and add 1 Tbl white vinegar. Let clot for a little bit. If you do this before preparing batter, it will be ready when it comes time to add it to the recipe)
1 tsp vanilla
4 eggs
In saucepan, bring to a boil margarine, oil, water & cocoa powder. Stir with whisk so it doesn't burn and is all incorporated! In mixing bowl, mix together dry ingredients. Add buttermilk, vanilla, eggs & cocoa mixture. Beat until well combined. (Batter will be thin)
Pour into greased & floured 9" x 13" pan. Bake at 375 degrees for 30 minutes. Poke with toothpick in center. If clean, it's ready. Cool 5 minutes & pour on frosting.
Chocolate Frosting: Make while cake is cooling
1 stick margarine (again, I've never used butter)
1/3 cup milk
3 ½ Tbl cocoa powder
1 lb box powder sugar (sifted)
1 tsp vanilla
In small saucepan melt margarine, milk and cocoa. Stir with whisk until well incorporated. Pour into mixing bowl. Add sifted powder sugar & vanilla. Slowly mix and then turn up speed. Beat until combined and smooth. Pour onto warm cake and spread. Let cool before slicing.
***Guys, this recipe is designed for high altitude so when I first baked it here in San Diego there were tons of air holes in it. So, I tweaked it and added 1 egg and increased the baking soda to 1 ¼ tsp and added a pinch of salt. The original recipe calls for 3 eggs and 1 tsp baking soda. Hope this works for you!!! I love you guys bringing some home-baked love to your community!
Love, Mom