Please mark your calendars and please pick up extra food next time you go to the grocery store. Get your kids and neighbors involved … this is a simple, easy way we can all help make a difference!
Deb and I will be at the Keller Williams office drive thru parking lot, Thursday, May 14 from 10:00 AM – 2:00 PM. We'll be practicing social distancing and wearing masks and gloves. Drive into the parking lot, open up your trunk or back end of your car and we'll remove all donated items. No need for you to get out of your vehicle! We'd love to see lots of support from our Park Village neighbors. Please forward this email and help us spread the word. Food needs and more info below …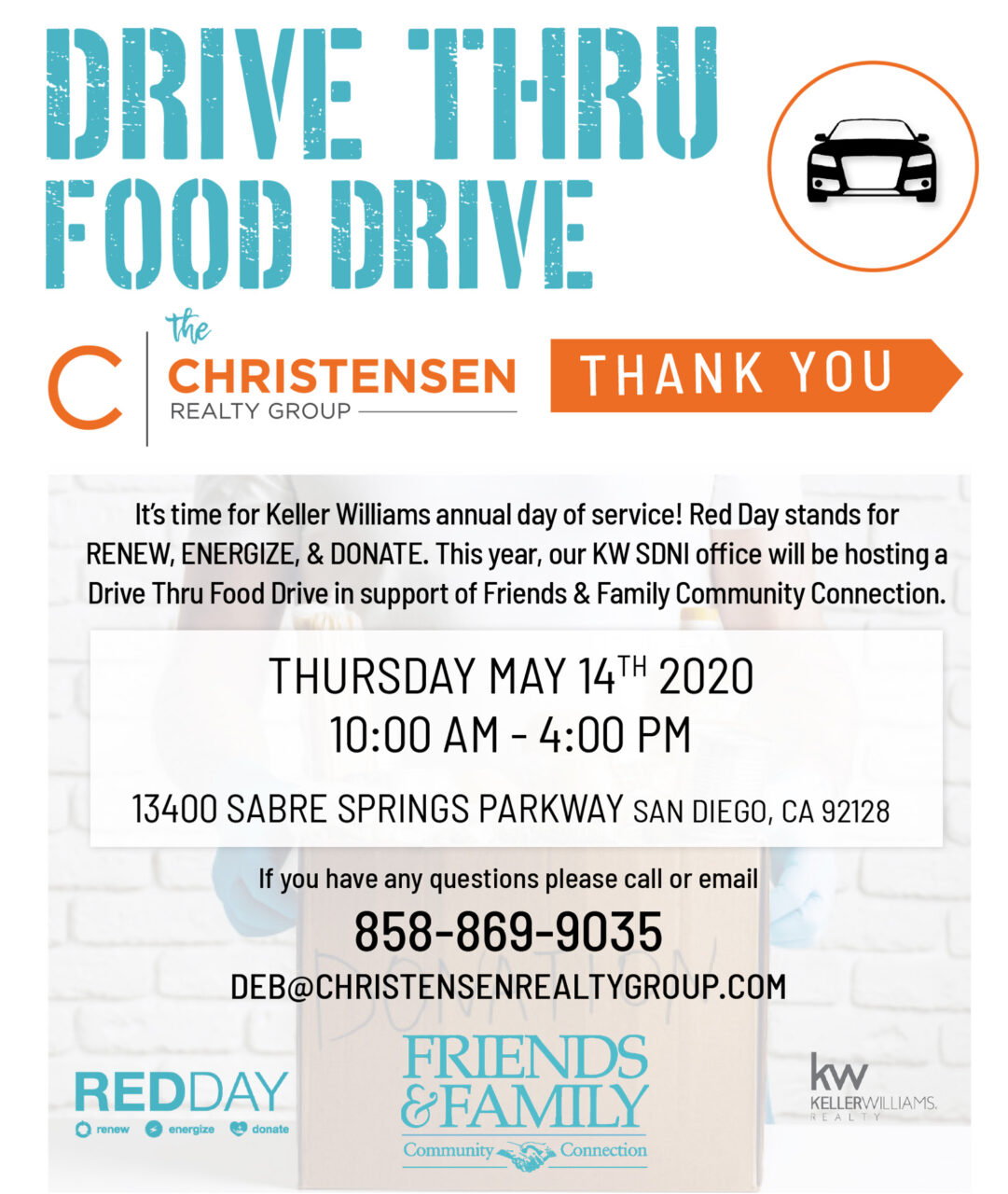 Becky Palensky, a long-time Park Village resident, heads the local chapter of FFCC. She has worked tirelessly for years volunteering, helping those in need. This is from Becky …​

Friends & Family Community Connection (FFCC) is a local non-profit completely led by volunteers. For over 22 years, local (within the Poway School District) families in need have been assisted by FFCC in ways that improve their quality of life. Donations like food, gift cards for gas and groceries, clothing, school supplies, plus other items are passed directly to local families who struggle with daily expenses. After careful screening, some have even been assisted with utility bills and partial rent payments.

Before the CoVid pandemic, FFCC assisted about 750 local households each month, year-round. Since mid-March 2020, that number has greatly increased; approximately 40%. We're working hard to meet needs of this area's most affected but are searching for the resources to do so.

Thank you in advance for considering how you might be able to help us to assist others within the Poway Unified School District's boundaries and nearby.

Contact Becky at ffccsdlocal@gmail.com for more information.