San Diego, CA is known for many things: fantastic weather, beautiful coastline, a hub for biotech research and industry, agriculture, Comicon, and a rainbow of cultures. But San Diego's character as a military town might be its greatest strength. According to a 2019 study, San Diego has the largest concentration of military presence of any US metropolitan area with over 143,000 active duty and 240,000 veterans living and working in our county. If you live in San Diego, it is quite likely your neighbor, co-worker, or your child's classmate is part of a military family.

San Diego is home to more than 380,000 US Navy affiliated individuals, the largest military presence in a US metropolitan city.
Chau and Carol Vu are a Navy family who made their home and raised their family in San Diego. They enjoyed being active with the community and their kids graduated from San Diego State University. The rising housing market in 2020-21 was setting records and together they wondered if the time was right to sell, downsize, and move closer to family. But the Vu's were reluctant to commit to such a big move without careful evaluation, planning and preparation.
Chau and Carol understood their home's market value, but they were less sure of its intrinsic value: the value of characteristics like a desirable double cul-de-sac location, a beautiful yard with mature landscaping, sparkling natural light throughout the home, and outdoor entertaining spaces. Their home was well-maintained, and they had recently made improvements to update the interior. They began studying online about home sales in the area to become familiar with local property values and trends. They also paid attention to which realtors had a presence and showed an understanding of their specific neighborhood.

After weeks of observation, the Vu's narrowed the field and were ready to interview realtors. They talked to "1½% bargain-listing" agents whose experience hinted at bargain-level service, and another agent who presented a marketing plan without ever asking a single question. When they met with Dan and Deb Christensen of The Christensen Realty Group (CRG), they had a different experience.
Chau recalled that what stood out to him was "Dan and Deb asked a lot of questions to get to understand our situation and they were genuinely interested in how they could help us work toward our goals for our future. They talked with us, rather than directing us and making promises." Dan and Deb asked the Vu's what their goals were in selling their home. What is important? Were they staying in San Diego or relocating to another city/state? How soon could they be ready to sell? Since the Vu's were moving into retirement, they communicated they wanted to net as much as they could from the sale of their home and indicated they were open to suggestions that would maximize their sale price. They discussed small changes that could elevate the overall impression of the home, such as updating a couple of light fixtures, removing unnecessary furniture, and making minor interior improvements. Creating a "wow factor" to the look and flow of the home would ensure its appeal to the widest range of buyers possible.
Taking all these thoughts into account, CRG recommended a strategy that took the Vu's by surprise: Sell now rather than wait for summer. The Vu's accepted the recommendations and were able to speed up their timeline given that their children were grown, and their work schedules allowed maximum flexibility. Looking back, Chau and Carol recalled how this pivotal decision and being prepared for an opportunity enabled them to capitalize on the active market, the still low interest rates, and low housing inventory.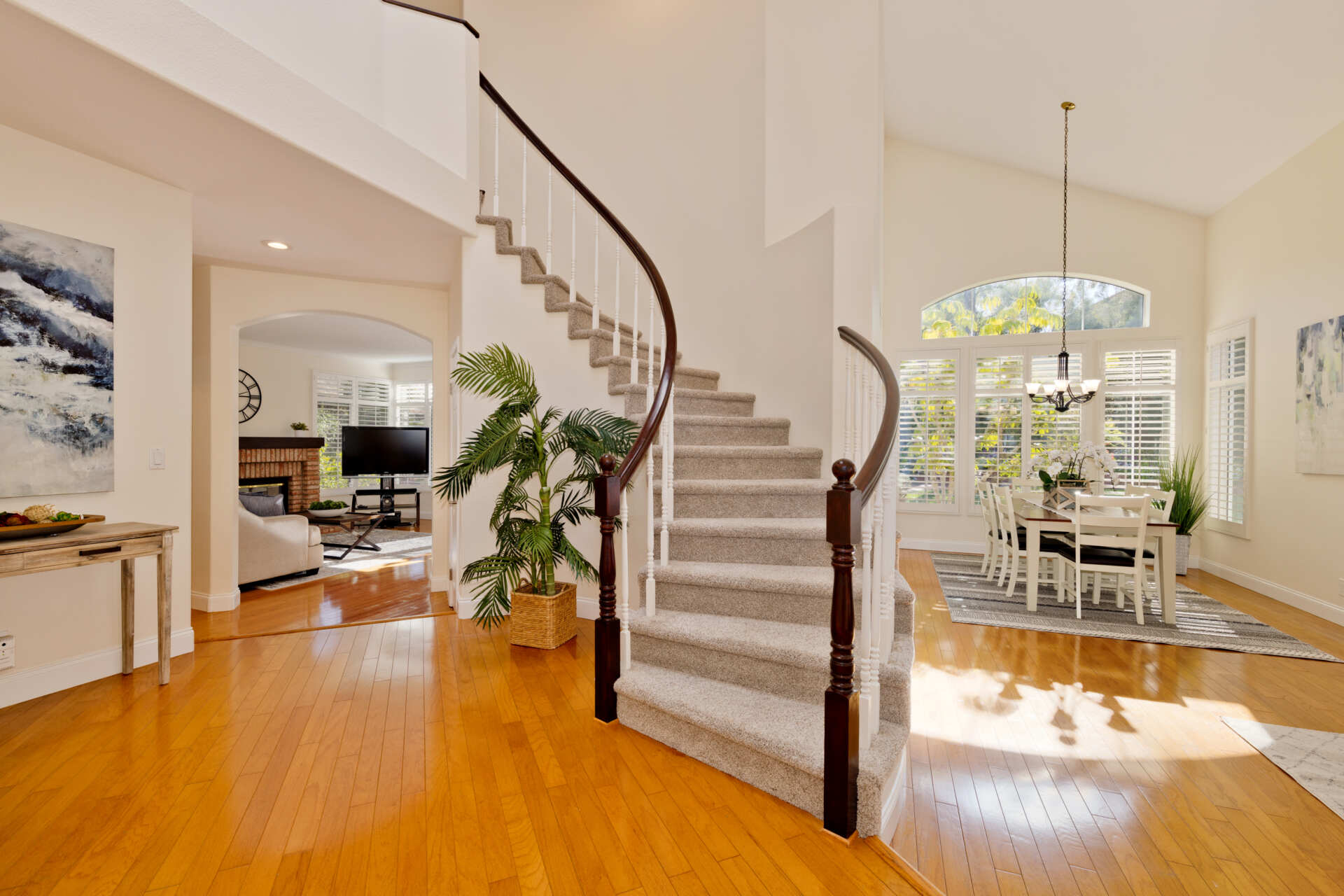 With a plan and timeline in place, the CRG team directed everything toward supporting Chau and Carol in preparing their already beautiful home to be "market ready." Carol recalls "they took the lead on scheduling the work that needed to be done and kept us informed at every turn." The to-do list included Smart Fix Ups™ to update a few interior features, spiffing up the front and back yards to highlight their size and beauty. To prepare for CRG's professional staging, the tidy home was rearranged, de-cluttered and they packed up personal belongings and furniture. The Vu's flexibility and willingness to accept these changes while still in the home helped to smooth out the process and maintain their agreed upon timeline.
In just a few weeks, this already beautiful home looked spectacular. Rather than waiting till the summer, they pivoted quickly, and the home went on the market on March 9, 2022. On a perfect, blue-sky, San Diego weekend, 100's of people toured the home, and a qualified offer was accepted in the following days.
The Final Analysis
When all was said and done, the Vu's story was an example of how their own thoughtful comparison and careful research gave them confidence to believe that the professionalism and expertise of The Christensen Realty Group would benefit their unique situation. They placed their trust in the CRG team to manage the details that could be controlled such as how the home was presented to the market, the pricing strategy and walking with them through the offer to closing steps. CRG's experience helped to manage expectations and prepare the Vu's to know what to expect at every stage of the transaction.
Fast forward two months
The Vus are enjoying a brand-new style of home. They are enjoying sparkling sunsets and expansive twinkling city light views from a modern, urban condominium. It's a big change from their former suburban, family-oriented neighborhood. They decided to stay in the San Diego area a little longer while taking time once again to evaluate, plan and prepare for the next phase of life. They couldn't be happier with their CRG experience, having felt that they were guided to make the decisions that were best for them, and feeling that they were genuinely cared for throughout the process. Chau noted "when the staging furniture was to be taken out of our house, Dan and Deb asked for the kitchen table and chairs to be left so that Carol and I would have a comfortable place to eat our meals! Who takes that kind of care of the details?! CRG did everything they said they would. They followed through on everything and were true to their word."
Where Uncertainty Meets Experience
While everyone is happy that the Vu's were able to capitalize on the circumstances at the time of their home sale, people are asking what the obvious shift in the market happening in 2022 means for them personally. The answer is: "We can't be sure." And yet, more than ever, sellers and buyers need active, experienced, clients-first advocates. CRG has distinguished itself in this unprecedented market and will continue to do so as we shift and experience less certainty. The Christensen Realty Group is committed to our values of integrity, truthful communication and giving our clients the best guidance for THEIR unique situation. We welcome your inquiry and the opportunity to help you make sense of what this market means for you.
christensenrealtygroup.com/portfolio